QuickTec Celebrates 25 Years in Business!
2018-01-15
By QuickTec IT Support and Services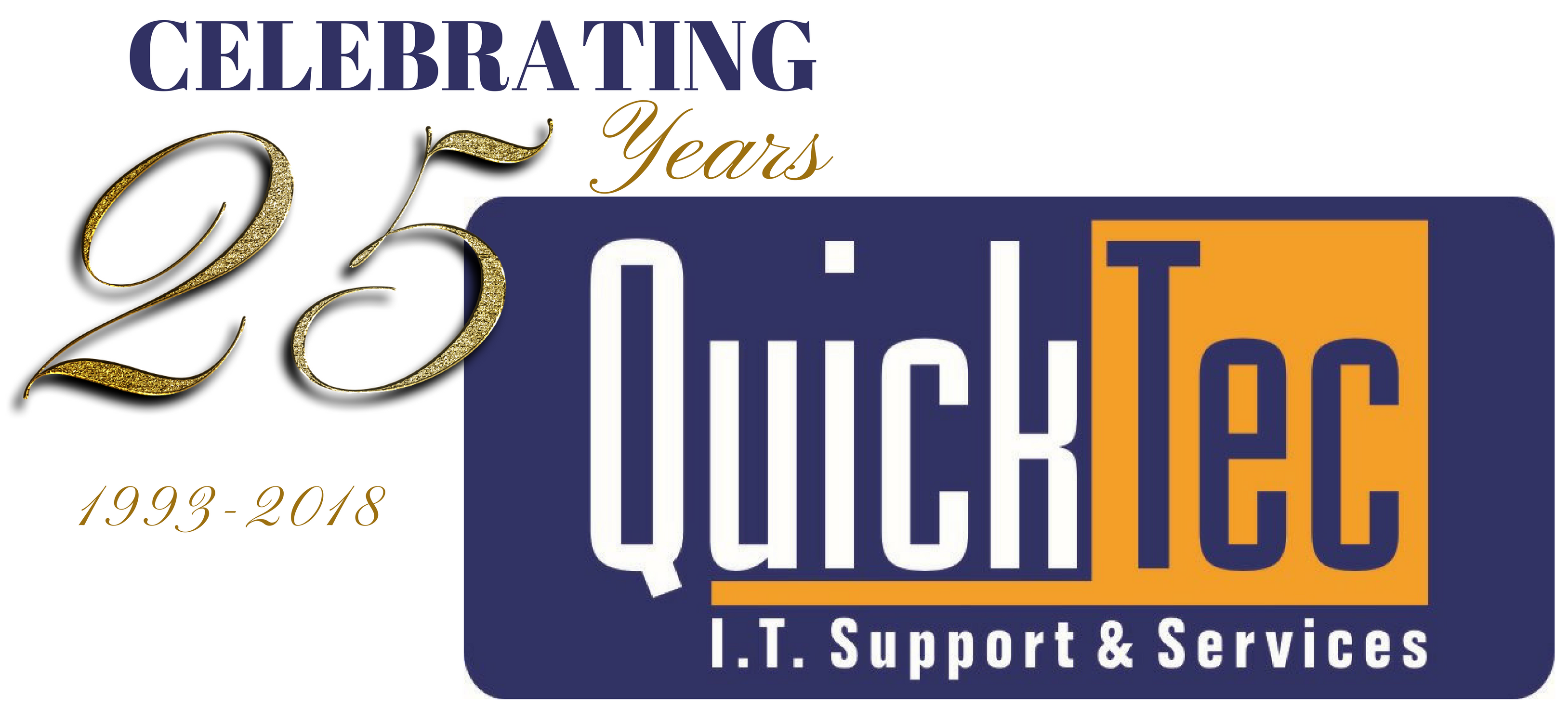 It's an exciting year for QuickTec as we celebrate 25 years in business!
Started by Joe Hurley and Kieran Flannery in 1993, at the beginning of the remarkable reinvention of Galway as one of Europe's leading ICT and Med Tech clusters after the closing of DEC - Digital Equipment Corporation's hardware manufacturing in Ballybrit. In the early years, Joe and Kieran, both experienced engineers who had each worked for Digital for over 20 years, focused on providing custom designed Servers and Workstations and installing networking solutions for small and medium sized enterprises.
Managing Director Joe Hurley Technical Director Kieran Flannery
QuickTec was one of the first 8 companies to move in to Galway Technology Centre when it was opened in 1994 to meet the needs of the emerging cluster of ICT companies in the Galway area at that time and then moved in to our Ballybrit premises where we have been since 1997.
QuickTec Building in Ballybrit Business Park
Around this time, schools had begun to buy in computer equipment and needed external resources to maintain their hardware. Joe and Kieran saw the gap in the market for this service which moved the focus of QuickTec from building to supporting, leading us to be the main IT Support Provider for the Educational Sector in the West of Ireland. As a result, companies who didn't have their own internal IT departments began calling QuickTec for IT Support on their servers and workstations and the company grew to meet the ever increasing demand. Joe and Kieran have always prided themselves on their excellent customer service and this is why our customers have stayed with us for the last 2 and half decades, even through the difficult recessionary times.
Support Helpdesk
Today, our friendly team of 14 people led by General Manager Hanora Gilligan have the same pride in customer services as Joe Hurley and Kieran Flannery.
General Manager Hanora Gilligan
Our IT Engineers are full trained, qualified and certified ensuring our customers get the best IT support. Our customers also benefit from our proactive IT Support package called Managed Services, where we monitor their IT hardware 24/7 so that we can pre-empt an issue before it happens and fix it in the background without disruption to their business, resulting in minimal or no downtime. The monitoring software we use is rated the number 1 networking and systems management software worldwide. Thanks to 25 years in business, we have built longstanding relationships with our suppliers and are partners with Microsoft, HP, Dell, Intel, Lenovo, Veeam, Watchguard, Ruckus, Ubiquiti to ensure the most competitive prices on hardware for our customers and certified training for our engineers so we can continue to deliver excellent service.
To celebrate our 25th anniversary this year and to thank our customers for their continued custom, we will be holding competitions, events and offers so keep an eye out on our Facebook, Twitter and Linkedin and celebrate with us!
#quicktec25years #ITSupport #Microsoft #HP #Dell #Intel #Lenovo #Veeam #Watchguard #Ruckus #Ubiquiti #happybirthday #galway #ireland #technology #gtc #galwaytechnologycentre #galwaychamber #galwaychamberofcommerce #digital #digitalequipmentcorporation #DEC #whygalway #computermuseum #NUIG #startup #galway2020 #CCMIreland