TECH TIPS - BACK TO BASICS
Galway Independent 10th August 2016
2016-08-10
By QuickTec IT Support and Services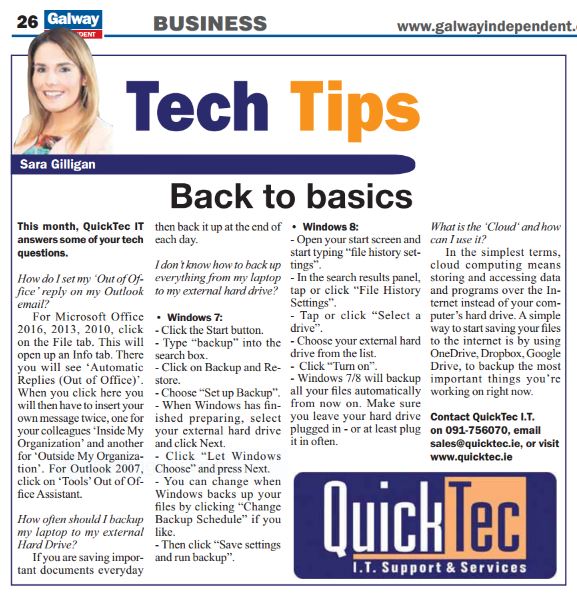 TECH TIPS
by
QuickTec IT Support and Services
Back to Basics
This month we asked you to ask us what you wanted to know!

How do I set my Out of Office on my Outlook email?
For Microsoft Office 2016, 2013, 2010 click on the File tab. This will open up an Info tab. There you will see "Automatic Replies (Out of Office)" When you click here you will then have to insert your own message twice, one for your colleagues "Inside My Organization" and another for "Outside My Organization". For Outlook 2007 click on "Tools" Out of Office Assistant.

How often should I backup my laptop to my external Hard Drive?
If you are saving important documents everyday then back it up at the end of each day.

I don't know how to back everything from my laptop to my external hard drive?
• WINDOWS 7
Click the Start button.
Type "backup" into the search box.
Click on Backup and Restore.
Choose "Set up Backup".
When Windows has finished preparing, select your external hard drive and click Next.
Click "Let Windows Choose" and press Next.
You can change when Windows backs up your files by clicking "Change Backup Schedule" if you like. The more often, the better!
Then click "Save settings and run backup".
• WINDOWS 8
Open your start screen and start typing "file history settings".
In the search results panel, tap or click "File History Settings".
Tap or click "Select a drive".
Choose your external hard drive from the list.
Click "Turn on".
Windows 7/8 will backup all your files automatically from now on. Make sure you leave your hard drive plugged in - or at least plug it in often.
The "Cloud" is a real buzz word, what is it and how can I use it?
In the simplest terms, cloud computing means storing and accessing data and programs over the Internet instead of your computer's hard drive. A simple way to start saving your files to the internet is by using OneDrive, Dropbox, Google Drive, to backup the most important things you're working on right now.
Contact QuickTec IT Support and Services on sales@quicktec.ie or 091756070 Ext 1 for all of your IT needs.