TECH TIPS - €30 million granted for ICT in Irish Schools
Galway Independent January 2017
2017-01-23
By QuickTec IT Support and Services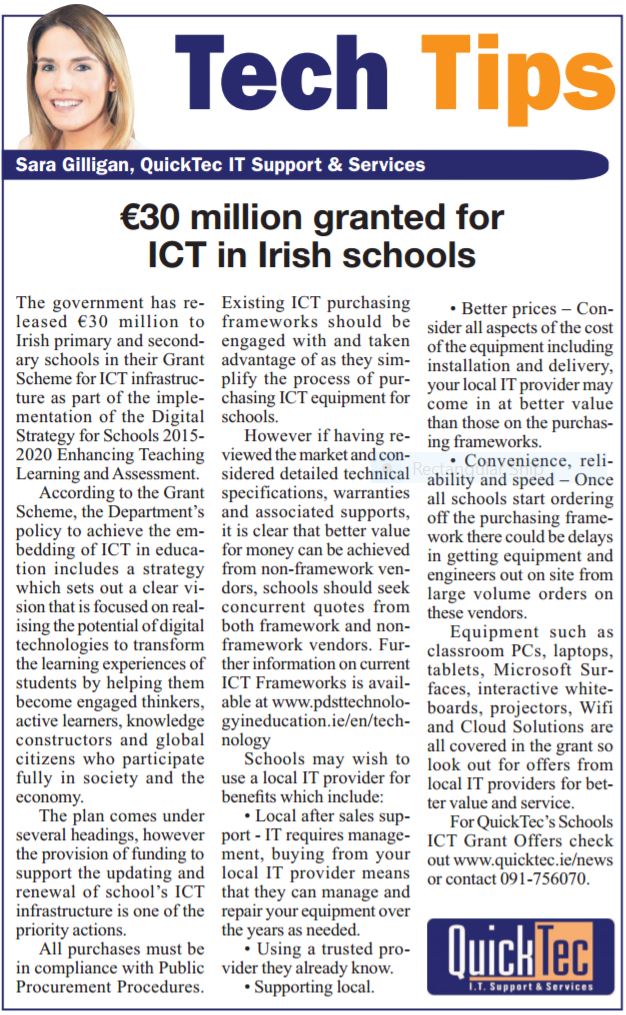 Tech Tips
Galway Independent January 2017
€30 million granted for ICT in Irish Schools
This month the Irish government announced that it had released €30 million to Irish primary and secondary schools in their Grant Scheme for ICT infrastructure as part of the implementation of the Digital Strategy for Schools 2015-2020 Enhancing Teaching Learning and Assessment.
According to the Grant Scheme, the Department's policy to achieve the embedding of ICT in Education includes a strategy which sets out a clear vision that is focused on realising the potential of digital technologies to transform the learning experiences of students by helping them become engaged thinkers, active learners, knowledge constructors and global citizens who participate fully in society and the economy.
The plan comes under several headings, however the provision of funding to support the updating and renewal of school's ICT infrastructure is one of the priority actions.
All purchases must be in compliance with Public Procurement Procedures. Existing ICT purchasing frameworks should be engaged with and taken advantage of as they simplify the process of purchasing ICT equipment for schools. However if having reviewed the market and considered detailed technical specifications, warranties and associated supports, it is clear that better value for money can be achieved from non-framework vendors, schools should seek concurrent quotes from both framework and non-framework vendors. Further information on current ICT Frameworks is available at http://www.pdsttechnologyineducation.ie/en/technology
Schools may wish to use a local IT provider for benefits which include:
Local After Sales Support- IT requires management, buying from your local IT provider means that they can manage and repair your equipment over the years as needed.
Using a trusted provider they already know
Supporting Local
Better Prices – consider all aspects of the cost of the equipment including installation and delivery, your local IT provider may come in at better value than those on the purchasing frameworks.
Convenience, reliability and speed – once all schools start ordering off the purchasing framework there could be delays in getting equipment and engineers out on site from large volume orders on these vendors.
Equipment such as classroom PCs, laptops, tablets, Microsoft Surfaces, interactive whiteboards, projectors, Wifi and Cloud Solutions are all covered in the grant so look out for offers from local IT providers for better value and service. To see QuickTec's Schools ICT Grant Offers check out https://www.quicktec.ie/news