TECH TIPS - HOW TO IDENTIFY AND AVOID DANGEROUS EMAILS
Galway Independent February 2017
2017-02-08
By QuickTec IT Support and Services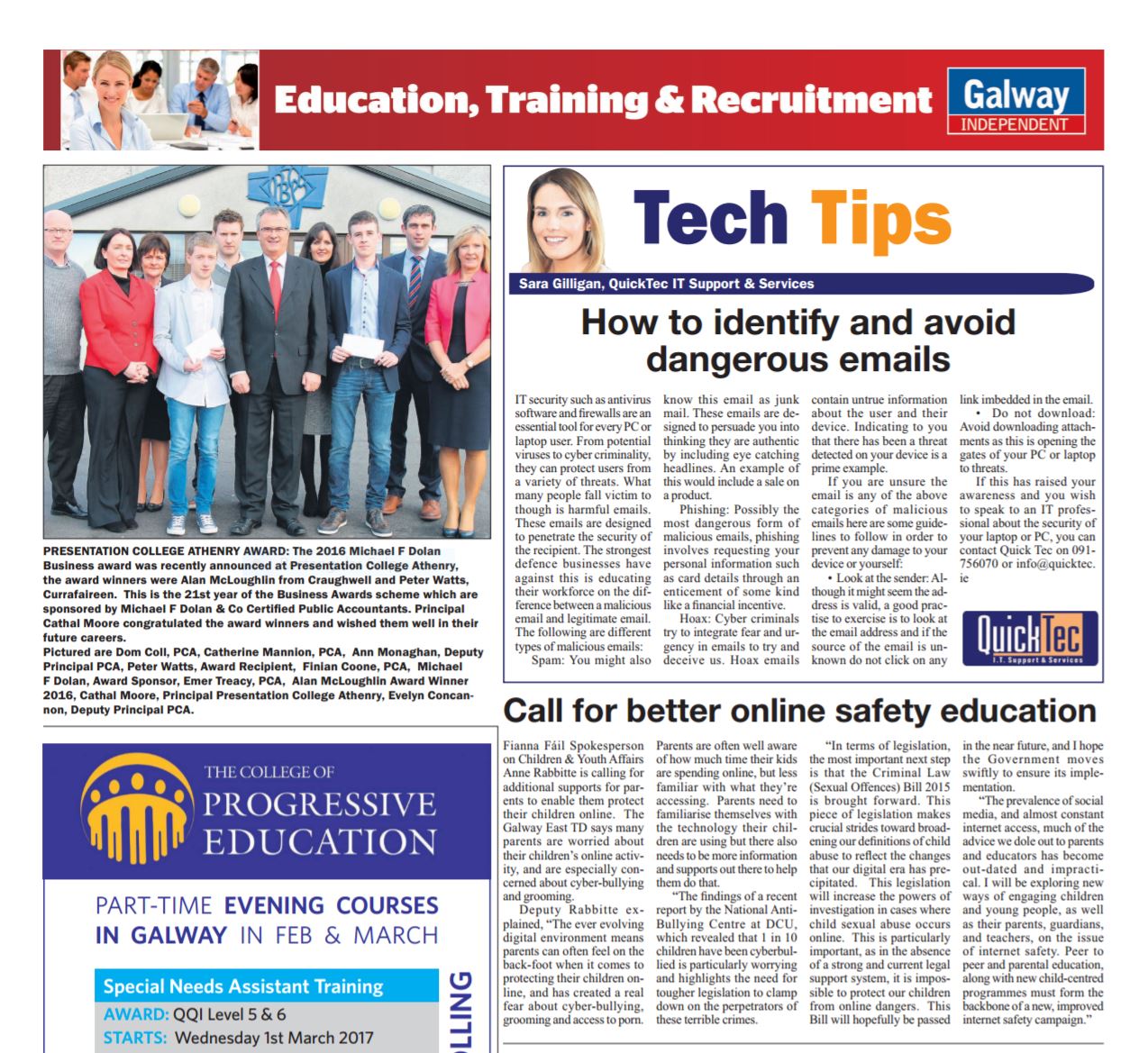 Tech Tips
Galway Independent February 2017
HOW TO IDENTIFY AND AVOID DANGEROUS EMAILS
IT security such as antivirus software and firewalls are an essential tool for every PC/Laptop user. From potential viruses to cyber criminality, they can protect users from a variety of threats. What many people fall victim to though is harmful emails. These emails are designed to penetrate the security of the recipient. The strongest defence businesses have against this is educating their workforce on the difference between a malicious email and legitimate email. The following are different types of malicious emails:

Spam: You might also know this email as junk mail. These emails are designed to persuade you into thinking they are authentic by including eye catching headlines. Example of this would include a sale on a product.

Phishing: Possibly the most dangerous form of malicious emails, Phishing involves requesting your personal information such as card details through an enticement of some kind like a financial incentive.

Hoax: Cyber criminals try to integrate fear and urgency in emails to try and deceive us. Hoax emails contain untrue information about the user and their device. Indicating to you there has been a threat detected on your device is a prime example.

If you are unsure the email is any on the above categories of malicious emails here are some guidelines to follow in order to prevent any damage to your device or yourself:

Ø Look at the sender: Although it might seem the address is valid, a good practise to exercise is to look at the email address and if the source of the email is unknown do not click on any link imbedded in the email

Ø Do not download: Avoid downloading attachments as this is opening the gates of your PC/Laptop to threats.

If this has raised your awareness and wish to speak to an IT professional about the security of your Laptop/PC, you can contact us on 091756070 or info@quicktec.ie