Upgrade your display & receive up to €200 cashback!
2018-01-02
By QuickTec IT Support and Services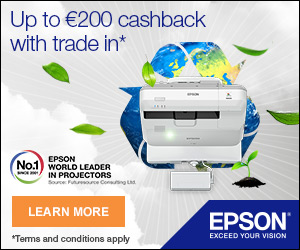 Up to €200 cashback when customers trade in their old projector & interactive whiteboard or interactive touchscreen
Trade in options
End users can trade in their old projector and receive €100 cashback when they purchase a qualifying interactive display from

Epson

1

.

If they trade in an interactive whiteboard at the same time they will receive an additional

€100 cashback

1

.

Alternatively, end users can trade in their old interactive touchscreen (50" and above) and receive €200 cashback

1

.
This offer is valid on purchases made between 01.01.2018 and 30.09.2018.
Promotion website (Available from 2nd Jan 2018) - www.epson.co.uk/projector-tradein or www.epson.ie/projector-tradein
Why Epson interactive projectors?
---
Epson's latest range of interactive projectors are the ideal solution for classrooms and collaborative meeting rooms everywhere*.
Unbeatable image size - up to 100" diagonal display for content that everyone can see clearly

Superb image quality - up to 4,400 lumens Colour Brightness and Full HD resolution

Dual pen and multi-touch interactivity on any wall or projection board

Epson Projector Management, iProjection and Easy Interactive Tools software - at no extra cost
*Specifications vary by model. Please view detail of individual products to choose the best model for you.
Large scalable display up to 100"
Lamp and filter life up to 10,000 hours

4

Replacement lamps less than £50/€60

5

5 year / 12,000 hour fit and forget warranty on all Epson laser projectors

2
| | | |
| --- | --- | --- |
| | | |
---
How a customer can claim

---

STEP 1

STEP 2
STEP 3
STEP 4
Customer purchases a qualifying Epson projector between 01.01.2018 and 30.09.2018
Customer visits epson.co.uk/projector-tradein or epson.ie/projector-tradein within 30 days of purchase
Customer completes the online claim form, uploads a copy of their receipt / invoice and submits their registration

Epson will contact the end user arrange their old equipment for recycling. Upon successful verification, Epson will process the cashback

Qualifying products and cashback amounts

---

EDUCATION PROJECTORS

---

EB-675Wi

- 3,200 lumens with WXGA resolution
- Dual pen interactive
- Includes SMART Notebook software

EB-685Wi

- 3,500 lumens with WXGA resolution
- Dual pen interactive
- Includes SMART Notebook software

---

EB-695Wi

- 3,500 lumens with WXGA resolution
- Dual pen & multi-touch interactive
- Includes SMART Notebook software

EB-696Ui

- 3,800 lumens with Full HD WUXGA resolution
- Dual pen & multi-touch interactive
- Includes SMART Notebook software

EB-710Ui

- 4,000 lumens with Full HD WUXGA resolution
- Dual pen & multi-touch interactive
- Includes SMART Notebook software

CORPORATE PROJECTORS

---

EB-1440Ui

- 3,800 lumens with Full HD WUXGA resolution
- Dual pen interactive
- Collaborative Whiteboard sharing mode

EB-1450Ui

- 3,800 lumens with Full HD WUXGA resolution
- Dual pen & multi-touch interactive
- Collaborative Whiteboard sharing mode

---

EB-1460Ui

- 4,400 lumens with Full HD WUXGA resolution
- Dual pen & multi-touch interactive
- Collaborative Whiteboard sharing mode

EB-1470Ui

- 4,000 lumens with Full HD WUXGA resolution
- Dual pen & multi-touch interactive
- Collaborative Whiteboard sharing mode